Who We Are
Benne-Franc Associates (BFA), LLC, is a Small Woman-Owned and Minority Business (SWaM), and a Service Disabled-Veteran Owned Small Business (SDVOSB). Our company specializes in providing cost effective and unique customized business solutions to our clients. We offer qualified and credentialed professionals that provide unparalleled business solutions and support to the federal government and state agencies, public and private enterprises.
Primary Areas of Specialization
At Benne-Franc, our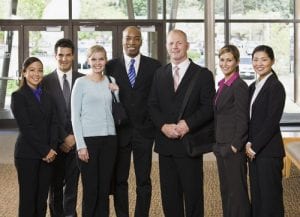 business approach is to work collaboratively with our clients to design proven business solutions and systems that work. We provide Leadership and Employee Development Programs, Information Technology (IT), Management Consulting and Organizational Development, Information Management, Data Resource Management, Enterprise Architecture, Budget Management, Recruitment & Talent Management, Human Resources Management, Veterans Programs, Health IT, and Training and Development Programs.
To further expand our services and products, BFA professionals and our IT teaming partner advise organizations on IT and project management best practices, deliver production-ready technology integrations, and provide custom IT training. Led by a team of BFA executives and our IT partner's subject matter experts, our experienced consultants support a range of IT and Professional Services.
What We Believe
At Benne-Franc Associates,
WE BELIEVE In a foundation based on character and integrity
WE BELIEVE In a passionate commitment to our clients — all else is secondary
WE BELIEVE In being dedicated to continuous personal growth and professional development
WE BELIEVE In acknowledging this awesome responsibility and privilege
WE BELIEVE If you are motivated enough, nothing is impossible
Contact Us
For integrated solutions designed with your company's needs in mind, contact Benne-Franc Associates today via our web form or call us at 540-809-7824 .
Fredericksburg VA, Washington DC, Richmond VA, Baltimore MD, Raleigh NC, Newark NJ & Manhattan NY